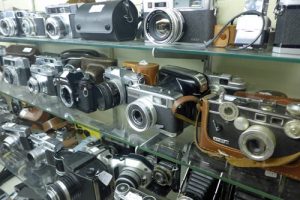 Tokyo is heaven for shutterbugs – some of the world's very best cameras are made in Japan and by Japanese companies, and people are constantly updating their gear, leaving a glut of really good second-hand equipment out there for people who want a deal or are looking for some classic clickers. A definite bonus to most of these places is the cool old signage, as well as the atmosphere of expertise you'll find.
Tokyo has an association of used camera shops called I.C.S. (Imported Camera Society) and you can view a Japanese list of member shops with maps. They also hold used camera fairs in Tokyo three times a year in Feb. (Matsuzaka Dept. Store in Ginza), May (Tokyu in Shibuya), and Oct. (Yurakucho). Many member shops gather to sell and show their wares at this fair. See the camera fair schedule here. Also see the PhotoVendors FAQ.
1- Hikari Camera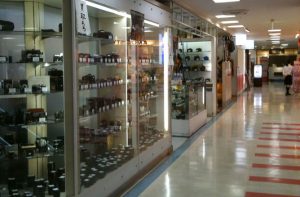 Hikari camera is a complete stinker to find, it is inside a building that you wouldn't see unless you knew the opening of the building, which is why I am posting the picture of the entrance too. It is right next to Akihabara station and really is somewhere that you should visit. It is a great little store with a nice selection of items. The staff are very pleasant and there are some bargains to be had there from time to time.
■ 10:30~19:00
http://www.hikaricamera.co.jp/home.html
■ 10:00-20:00 (M-F)
■ Chiyoda, Kanda, Sakuma cho 1-14 Dai 2 Higashi Biru 108
■ http://hikaricamera.blog99.fc2.com/
2– Nisshin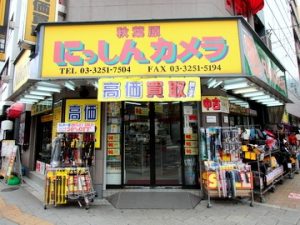 Nisshin Camera stocks a wide range of digital and film-based cameras and camera peripherals. They deal mainly in single-lens reflex cameras and offer an extensive range of telephoto lenses. In addition to new merchandise they also deal in second-hand goods and will often make an offer to anyone who brings in a camera for sale. The staff are polite, knowledgeable and happy to answer any camera-related questions.
■ Kanda Iwamotocho 1-13 Chiyoda-ku, Tokyo, JAPAN 101-0033
■  (03) 3251-7504
■ http://www.nisshin-camera.com/page/1
■ 10:00-20:00 (M-F), 10:00-19:00 (Sat., Sun., holidays)
3– Camera no Kitamura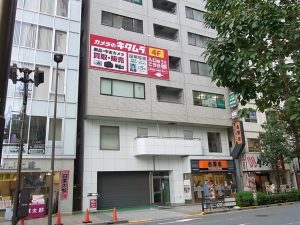 The shop not only sells both new and secondhand cameras, they also buy used cameras. The prices of cameras change according to the market price that day. It seems that the prices and the stocks are quite volatile, but you can check over 20,000 items of stocks of cameras in every "Camera no Kitamura" stores in Japan by using tablets available at the Akihabara store.
Camera-no-Kitamura is located near a large home appliance store; therefore, not so many tourists know about this place. Buying cameras from home appliance store might be a good idea: however, you can find a unique environment different from other stores here in this camera specialty store. So please visit here if you would like to have experience something different in Akihabara.
■ Hasegawa Bld.401, 10,Kanda-Matsunagacho, Chiyoda-ku, Tokyo,
■ 03-5297-4041
■ http://www.kitamura.jp/
■ 10:30-19:30
4- Secondhand Goods Online
For those who prefer shopping from home, there are a few outlets for you. Yahoo Auction is a popular site for picking up nearly-new goods (but you'll need to make an account and be able to use the local lingo). Tokyo Craigslist and Japan Garage Sale (a Facebook group) are some good sources for English speakers, as well as classified rags like Tokyo Notice Board that have lots of "sayonara sale" ads.